Destinations within Greenland
Greenland is the world's largest island and it is an exciting destination in the Arctic for all adventure minded travelers
NORTHERN LIGHTS
This phenomenon is a source of great interest to many of us living here in Greenland. We keep an eye out for the northern lights through online forecasts, follow live updates of how the northern lights are spreading across the Arctic, take lots of photos with great enthusiasm, and love to take our guests out in the dead of night to view the sky.
DOG SLEDDING
Dog sledding in Greenland has been a mode of transportation and hunting for approximately 5000 years. Recently, it has also become a leisure activity for Greenlanders and tourists.
PIONEERING PEOPLE
We are often called hospitable, cheerful and kind, but even if such universal traits will shape your experience of Greenlanders, we might be better characterized as adaptable, full of wanderlust, and culturally diverse. Meet us here.

WHALES
Set sail on a whale watching tour to spot humpback whales, fin whales and minke whales frolicking and feasting in Greenland's waters during their own summer holidays.
ICEBERGS
Greenlanders once used icebergs to distinguish the seasons and even to identify towns – a testament to their steadfast presence and to the intertwined quality of Greenlandic culture with our country's powerful nature. Media stress that the ice in Greenland is melting, and while this is absolutely true, as long as the Greenland Ice Sheet exists, icebergs of all shapes and sizes will fill these Arctic waters.
Explore the regions and towns around Greenland
Dig deeper into the experiences in each destination by visiting Visit Greenland's website
North Greenland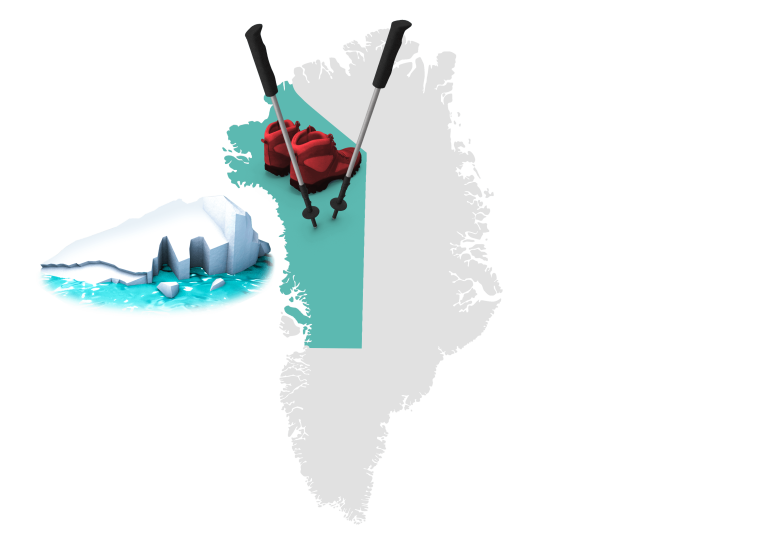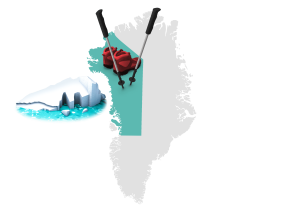 North Greenland is the land of the midnight sun and dog sledding. A cornucopia of arctic experiences with giant icebergs and the Ilulissat Icefjord, honoured with a place on the esteemed list of UNESCO World Heritage Sites.
From the Ilulissat icefjord in central West Greenland to the polar extremes of the far north, the scale of Destination North Greenland is hard to fathom. Along a coastline stretching thousands of miles lie small communities based on hunting and fishing, in a land ruled by the polar night in winter and the summer's midnight sun.
The Ilulissat Icefjord is known for diversity in landscapes and wildlife, high-quality hotels, and culinary experiences. As a concentrated slice of Greenland, you will meet massive icebergs from one of the world's fastest flowing glaciers.
Further north, the Uummannaq archipelago and kayaking adventures in Upernavik open up a remote world of experiences culminating at the top of Greenland in the small town of Qaanaaq, where subsistence hunting is a way of life.
South Greenland
Destination Arctic Circle
East Greenland
The Capital Region
Disko Bay
The National Park
Registration for Iceland
opens May 4, 2023